March 26, 2019
DHA® eNews - SPECIAL EDITION: Fake News - The Rest Of The Story
Roseburg Is A Cooperating Witness
In the U.S. Customs and Immigration Enforcement investigation into alleged illegal imports of okoumé veneer by Cornerstone Forest Products, Roseburg Forest Products has been cooperative and transparent with investigators. Roseburg states that ICE investigators "have repeatedly assured Roseburg that the company is not the focus of the investigation at this time. Media reports have inaccurately stated or implied that Roseburg is the focus of the investigation."

"Roseburg's Lacey Act due diligence does not stop with certifications," says Roseburg. "With the assistance of third-party experts in supply chain compliance such as DoubleHelix Tracking Technologies, Roseburg proactively audits suppliers to assess compliance and mitigate risk. In the summer and fall of 2018, on Roseburg's behalf, DoubleHelix conducted okoumé veneer supply chain risk assessments and compliance audits."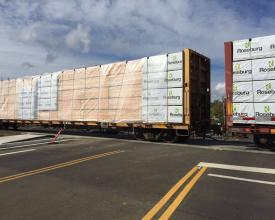 Atlantic Veneer Beaufort Mill Changes Business Model
The Möhring Group announced that it will change the business model at its Beaufort, NC facility by maintaining current log suppliers, slicing material closer to the log source, maintaining the flow of logs and veneer, and keeping its clipping and grading lines in Beaufort. The Möhring Group has also acquired the assets of Bracia Mrozik, a Polish veneer producer of European species.
HPVA Laboratories® Offers Lacey Act Due Diligence Template & Legal Timber Certification Program
For more information on the Lacey Act Due Diligence Management System Template, contact Eva Mentel. For more information on certification to ANS Legal Timber Due Diligence 1.0 2015, a quality assurance program for establishing confidence that illegal timber is excluded from your timber supply chain, contact Josh Hosen.